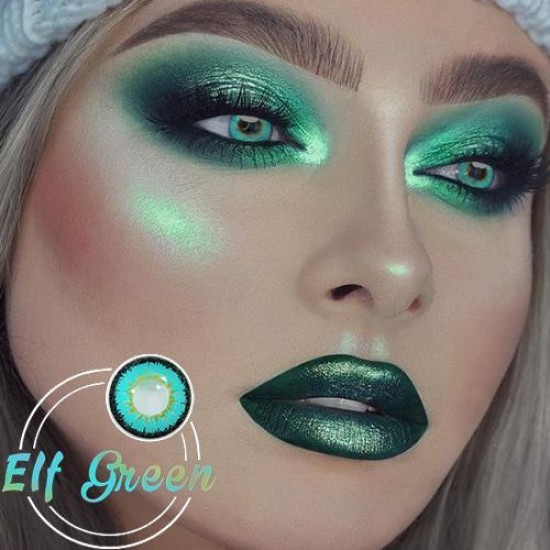 KateEye® Elf Green Naruto Colored Contact Lenses
KateEye® Elf Green Naruto Colored Contact Lenses
Attention:Applicable for all people !The actual color is the picture without eye,The actual color effect depends on the customer's eye color.
Sandwich Painting Tech
With this advanced tech, we embed pigmented layer between the 2 layer of lenses, preventing pigment from adhering to cornea, which guarantees a comfort wear to greatest degree.
CE and FDA Qualified Material
In order to make sure your safety, all of our contacts carry CE mark and are FDA approved, conforming to international qualitative medical standards.
UV Blocking
Help to block daily ultraviolet when you are outside.
Maintain Moisture
These contact lenses allow a significant amount of oxygen through the lenses, which helps to maintain a high level of moisture of your eyes.
Yearly Disposable
The high standard allows our lenses have a durability of up to 12 months with the comfort comparable to daily disposable contacts.
SPECIFICATION
Water content: 38%
Thickness: 0.004mm
Texture: Polymacon
Base curve: 8.6mm
Diameter: 14mm~14.5mm
Period of use: 12 months
Packaging: 1 Pair(2 lenses)
When will my order ship?

Usually all orders are processed and shipped within 1-2 working days.

Most order ship within 48 hours. After execute an order, we will send tracking number by e-mail, and providing inquiry addresses.

Can you ship to my country?

we can ship to your country.we can ship single item samples or large orders to more than 100 countries.

When will my order arrive?

Since the contact lenses contain liquid, they can only be transported by special express delivery。
This shipping method is the fastest available. Delivery times are between 7- 15 days to all major destinations。
(Due to the COVID-19 period, the arrival time may be extended by 10 days)